ALU-GARD DOOR
Alu-Gard security doors use strong 1.6mm thick aluminium perforated sheet and a fully riveted wedge retention system which is designed to repel even the most determined intruder. Alu-Gard doors offer a smooth modern appearance.
Alu-Gard products are custom built by Lifestyle Security Doors, made to measure to suit your exact requirements.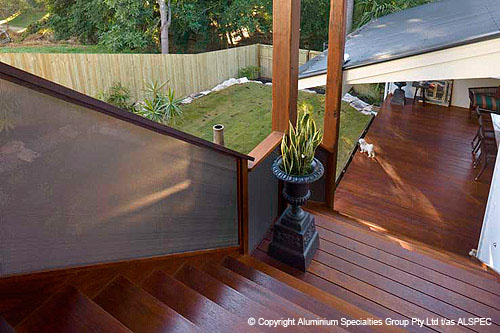 Alu-Gard Security Screens are suitable for a wide range of residential and commercial applications including the following:
Hinged Doors
Sliding Doors
Security Window Screens
All fixings are covered with an adaptor ensuring a smooth and clean finished product.
Choice of Stylish Colours
With Alu-Gard products, matching the colour to existing door and window frames is not a problem. A full range of powder coated colours along with anodised finishes are readily available. Please contact Lifestyle Security Doors for the full colour range.

Care and Maintenance
Your new Alu-Gard Screens have been manufactured using the highest quality materials available to the aluminium industry. Constructed from Architectural Grade Aluminium, which is corrosion resistant and exceptionally strong. With a moderate amount of maintenance, your Alu-Gard Screens will retain their good looks and resist the elements for years to come.

Your Alu-Gard Screens should only ever need to be washed down with a soft bristled brush using warm mains water and a mild detergent. Rinse well with mains water to remove any detergent residue paying particular attention to ensure ALL residue is flushed from the mesh retaining areas of the frame. Only mains water is to be used as recylced, bore or tank water is unacceptable and may lead to detrimental corrosion effects. Care should be taken to avoid excessive amounts of water entering the main lock and auxiliary 3 point locks. Strong detergents and abrasive cleaners MUST NEVER be used to clean your Alu-Gard Screens as these may scratch or damage the surface finish and increase the likelihood of corrosion.

Periodic lubrication of the main lock and auxiliary lock components should only ever be done using graphite powder. Liquid or aerosol lubricants can cause corrosion and damage the locking mechanism.