FEDERATION PANELS
Lifestyle Security Doors manufacture Front Entry Security Doors. Front Entry Security Doors are often the first line of defense for the home owner. Many homes incorporate an ornate timber door as a feature of the front of the house.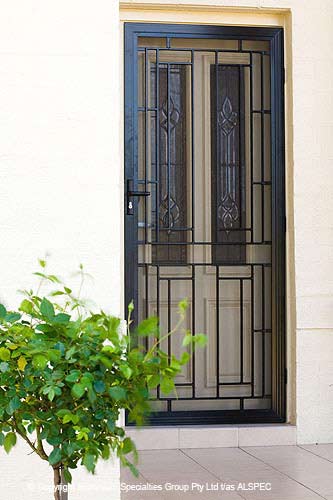 Lifestyle Security Doors are able to offer a Federation Style cast panel door that rates as a true security door.
FEDERATION Cast Panels feature unique designs with Australian Design Registrations. The FEDERATION Cast Panel range offers a selection of traditional and contemporary designs in an extensive range of colour finishes. Manufactured from the highest quality of recyclable aluminium, FEDERATION Cast Panels are a stylish and durable means to finish off your window and door screens.
The Complete Range
Lifestyle Security Doors now offers the complete range of screening systems from our top of the range INVISI-GARD Stainless Steel Security Screens, through to ALU-GARD All-Aluminium Security Screens, FEDERATION Cast Panels, ALU-GRILLE Diamond Grilles, one way vision mesh, fibreglass and aluminium insect screening and all of the associated accessories.
Custom Built
All screen doors using FEDERATION Cast Panels are custom built, made to measure to suit your exact requirements. FEDERATION Cast Panels are suitable for a wide range of residential door and window applications including:
Hinged Doors
Sliding Doors
Window Screens