DIAMOND GRILLE RANGE
Lifestyle Security Doors Adelaide provide tuff and affordable aluminium expanded mesh grille doors and screens. There are three different grille designs to choose from and these doors can be fitted with a range of insect meshes or privacy mesh. Diamond grille doors can be fitted with single locks or for a higher level of security a three point lock can be fitted.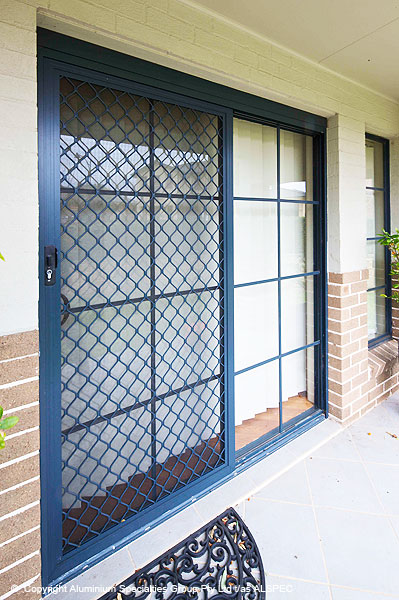 Lifestyle Security Doors offer a wide range of Window and Door Grille options that will improve the security of your home. ALU-GRILLE are perfectly suited to a wide range of window applications as well as both hinged and sliding doors.

ALU-GRILLE have a 7mm strand thickness and meet the requirements of the Australian Security Door Standard AS5039. To obtain maximum benefit from ALU-GRILLE, all doors made incorporating these grilles should also be manufactured to comply with AS5039 and installed to comply with AS5040.

ALU-GRILLE Doors are available with the option of One Way Mesh, ideal if added privacy is required. One Way Mesh allows you to see out through your door at the same time as reducing the visibility into your house from the outside.

Key Diamond Grille Features
ALU-GRILLE's are made from special Tempered Aluminium for greater strength and increased peace of mind. When combined with quality framing and hardware, Lifestyle Security Doors offers good looking, low maintenance protection for your home.
Various decorative grille designs available, ideal for front entry doors. Available in hinged and sliding door widths.
ALU-GRILLE for custom-made sliding doors provides optimum protection and smooth operation. Adjustment screws face inside the door out of an intruders reach.
Half door panels add to protection from the weather, pets and intruders. Available in a range of pre-finished colours.
Fixed window grilles, custom-made to suit. Also available in a variety of patterns and colours.
Security doors made from quality ALU-GRILLE can be fitted with the extra feature of a 3 Point Safety Lock. Three interlocking security hinges deter even the most persistent intruder.
Lifestyle Security Doors One Way Mesh provides added security by limiting visibility from the outside whilst maintaining the view from the inside.