COLONIAL DECORATIVE DOORS
Colonial Cast Doors use a die cast grille design which is 100% recyclable aluminium. There is a wide range of designs to choose from to compliment any style of home and with over 100 colours to choose from the finished product will enhance the look and security of your home.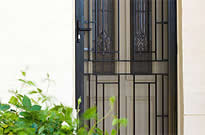 Colonial Cast Doors can be fitted with any type of insect mesh including restrictive vision mesh.These doors can also have single or 3point locking systems fitted.
For a higher level of security any cast panel can be fitted into an Invisigrille door which uses 316 marine grade stainless steel mesh and a patented frame system to achieve a door which not only looks great but will outperform a standard cast door.